McCalmont and Fisher recognized as Attorneys of the Year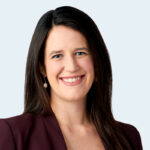 Forsgren Fisher is proud to announce that Virginia McCalmont and Caitlinrose Fisher are being recognized as 2022 "Attorneys of the Year" by Minnesota Lawyer. McCalmont and Fisher are recognized for their work in Koopman v. City of Robbinsdale et al., along with co-counsel Teresa Nelson, David McKinney, Clare Diegel, and Howard Bass.
In 2018, Amy Koopman—then a church secretary and seminary student—pulled her vehicle over when she saw Robbinsdale police standing, guns drawn, by a car with two Black men inside. Koopman stood on the opposite side of the intersection and began livestreaming on Facebook because she wanted to ensure the men's safety and police accountability. Although she never physically interfered with police, Robbinsdale police charged her with obstructing legal process and threatened to detain her if she did not stop her recording or provide identification.
McCalmont and Fisher partnered with the ACLU-MN and Bass Law Firm to file a civil-rights lawsuit on Koopman's behalf. The lawsuit sought damages against the City of Robbinsdale and multiple officers for violating Koopman's First and Fourth Amendment rights to record and speak to police. Earlier this year, Robbinsdale settled the lawsuit, paying $70,000 and implementing significant policy reforms, including new policies and training regarding bystanders' First Amendment right to record law enforcement.
"I am thrilled for the recognition this award brings to Ginny and Caitlinrose, not only for illuminating their excellence in this case but for shining a bright spotlight on our firm's growing civil-rights practice," said the firm's managing partner, Bob Gilbertson.
The Koopman team will be recognized along with other honorees at a reception on February 15th, 2023. More details and a full list of the honorees are available at Attorneys of the Year 2022.