Virginia McCalmont recognized as 2021 "Up & Coming Attorney"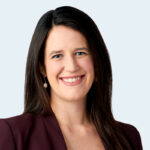 Forsgren Fisher is thrilled to share that Virginia ("Ginny") McCalmont has been named a 2021 "Up & Coming Attorney" by Minnesota Lawyer. This annual award recognizes attorneys who have distinguished themselves through their professional accomplishments, commitment to the profession, and leadership in the community in their first decade of practice.
Ginny represents both plaintiffs and defendants in a broad range of litigation matters and is the practice lead for Forsgren Fisher's Financial Services & Insurance trial practice. Ginny excels at making complex issues comprehensible to fact-finders and judges. She often leads efforts with expert witnesses and has an impressive track record of obtaining the complete exclusion of opposing parties' expert witnesses. Ginny is also actively engaged in Minnesota's legal community, where she maintains a robust pro bono practice, is an investigator for the Fourth Judicial District's Ethics Committee, and is an active member of Minnesota Women Lawyers' Pay Equity Committee.
Ginny will be recognized with the other honorees at a luncheon in September 2021. More details and a full list of the honorees are available at Up & Coming Attorneys, Unsung Legal Heroes Announced.