Forsgren Fisher wins appellate reversal on behalf of domestic-violence survivor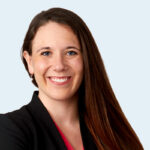 The Minnesota Court of Appeals has reversed the conviction of Forsgren Fisher client Stephanie Clark, a victim of domestic violence who shot and killed her abuser.
In the words of the Court of Appeals, the "facts of the case are tragic." Clark was a victim of escalating and violent abuse at the hands of her live-in boyfriend. On March 5, 2020, Clark's abuser forced her to kneel, punched her, and held a loaded firearm to her head. He threatened to beat her and break her ribs when her young son went to bed. Fearing for the safety of herself and her young son, Clark grabbed one firearm and then a second, and shot and killed her abuser. Less than one day later, as bruises still formed on Clark's body, the State charged Clark with second-degree murder.
At trial, represented by Eric Doolittle of Appelman Law Firm, Clark argued that she had acted in self-defense and feared imminent death or great bodily harm. Over defense objection, the district court instructed the jury partway through its deliberations that "imminent" meant "such harm will occur immediately." The jury convicted Clark after receiving this supplemental instruction.
Forsgren Fisher partners Caitlinrose Fisher and Matthew Forsgren teamed up with Appelman Law Firm to represent Clark on appeal, challenging, among other things, the district court's jury instruction on self-defense. Earlier today, the Court of Appeals agreed with Forsgren Fisher's appellate arguments and reversed Clark's conviction. The Court wrote: "By instructing the jury that 'imminent' means 'immediate,' the district court telegraphed to the jury that holding a loaded gun to a person's head and threatening harm does not qualify as an imminent threat. We therefore conclude that the district court misstated the law by making a blunt instruction to the jury that 'imminent' means 'immediate.'"
"We are glad that the Minnesota Court of Appeals recognized that the district court's jury instructions were not tailored to domestic violence and did not account for the terror and abuse that Ms. Clark experienced before she acted in self-defense," says Fisher, who argued the appeal. Forsgren Fisher managing partner Bob Gilbertson further stated of the win: "Whether we're representing one of the country's largest corporations or an individual like Stephanie Clark, who was wrongly prosecuted after defending herself and her five-year-old son from a serial abuser, we take pride in standing up for our clients at trial and on appeal. We could not be happier for Stephanie and her son."